The idea of "Barn Jazz" began in 2002 or so. I was living in Oracle, Arizona, in the high desert grassland/mountain transition zone of the Catalina mountains near Tucson. My wife, Lyndi, and I were involved in promoting and booking music for a new local event, The Fiesta de las Calabazas.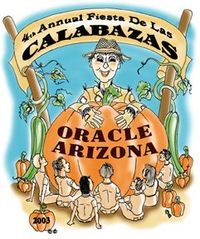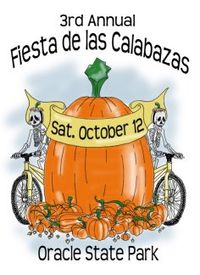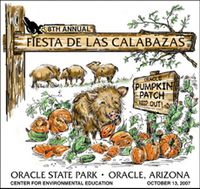 As I got to know more musicians from all over southern Arizona, I wondered how I could make a more unique or unusual statement artistically with music. I had always been drawn to the sophisticated jazzed-up bluegrass of David Grisman (Dawg Music), Jerry Garcia, and Vassar Clements (Hillybilly Jazz). A trip to Ireland's Beara Peninsula in 2003 infused me with a new passion for Celtic musical styles.  Somehow I felt the urge to combine these elements along with the Gypsy Jazz influences of Stéphane Grapelli, Joe Venuti, and Django Reinhardt into something just a bit different from the traditional tunes that had grown popular over the years since the folk revival of the 1960's. 
When people ask "what is Barn Jazz?" I reply, "Bluegrass in tuxedos, and Jazz in hip boots and overalls". Get it?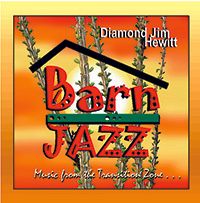 Barn Jazz Vol. 1
The core Barn Jazz story as presented in my first CD is fantasy where the insects held a hoedown in the barn after the farmer went to bed. The CD opens with "Garden Dreams", my very first instrumental composition and recording, done with quite basic equipment, my new Viper 6-string electric violin, and the Cakewalk SONAR DAW. This tune was inspired by the many gardens of Oracle, including those of Vivian Mayer, and Brent Warburton, resident of El Rancho Robles. The first Fiesta de las Calabazas was held adjacent to Brent's garden. Kid Squidd, a DJ for local community radio station, KXCI, included Garden Dreams on one of his "compilation" CD's of interesting music.
My second attempt at recording took much longer, resulting in, well, "Barn Jazz". That instrumental was my first attempt at adding a piano part, along with the Viper as well as my acoustic violin, and some electronic drums and percussion. The actual title "Barn Jazz" I will credit to my wonderful wife and life partner, Lynn, who is always playing the role of word smith for me.
This insect hoedown idea inspired the tune, "The Barnagle". This tune was one of my first experiments with layering various acoustic instruments using overdubs, to create an almost orchestral piece, somewhat disjointed and ever evolving, that later struck me as something that could have lived in the late 19th century during the era of Impressionism. My wife once asked me, "why do you keep pausing the music???" (emphasis added). Its because I was assembling various musical phrases and imagery on the fly (you can hear them buzzing at the opening of this piece), improvising as I went, and then weaving in additional parts with electric violin, mandolin, and acoustic guitar.  The pauses denote various sections of the music, or maybe just the insects catching their breath. This was years before I had obtained my many soft synths and electronic instrument packages.  
Kate Horton, a local graphic artist, was inspired to make this poster drawing that depicts the Barnagle, with characters such as Jim Bug (playing the Viper electric violin), Savoir Faire the black widow spider/conductor, and Kindle the Fire Ant, who was later accused of causing the nearby wildfire ("Fire on the Ridge"). Sweet Annie the cat (a real cat who once had, as staff, the Biospherian, Linda Leigh) overlooks the scene from her perch on the window sill. Later Sweet Annie has a dream where she is running in the hills around Oracle, chasing mice, and just being herself ("Sweet Annie").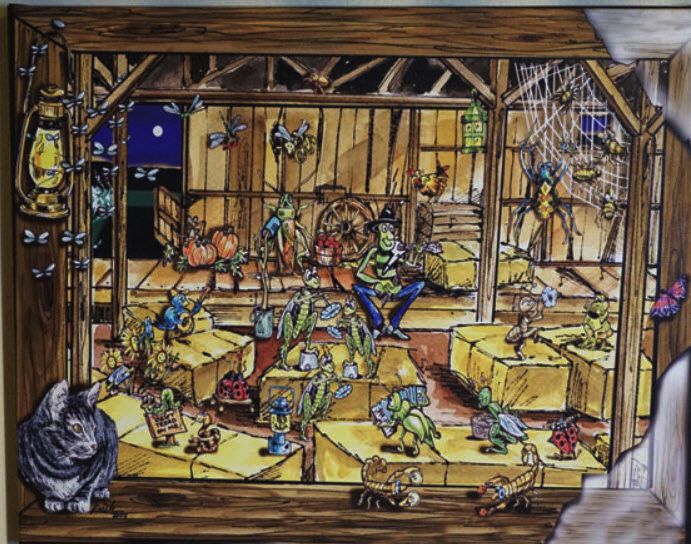 Out the door you can just get a glimpse of those nocturnal creatures, the Yuccas, marching to join the Barnagle ("March of the Yuccas"). Note that during the day they stop to rest, resuming their march only well after the local residents are fast asleep.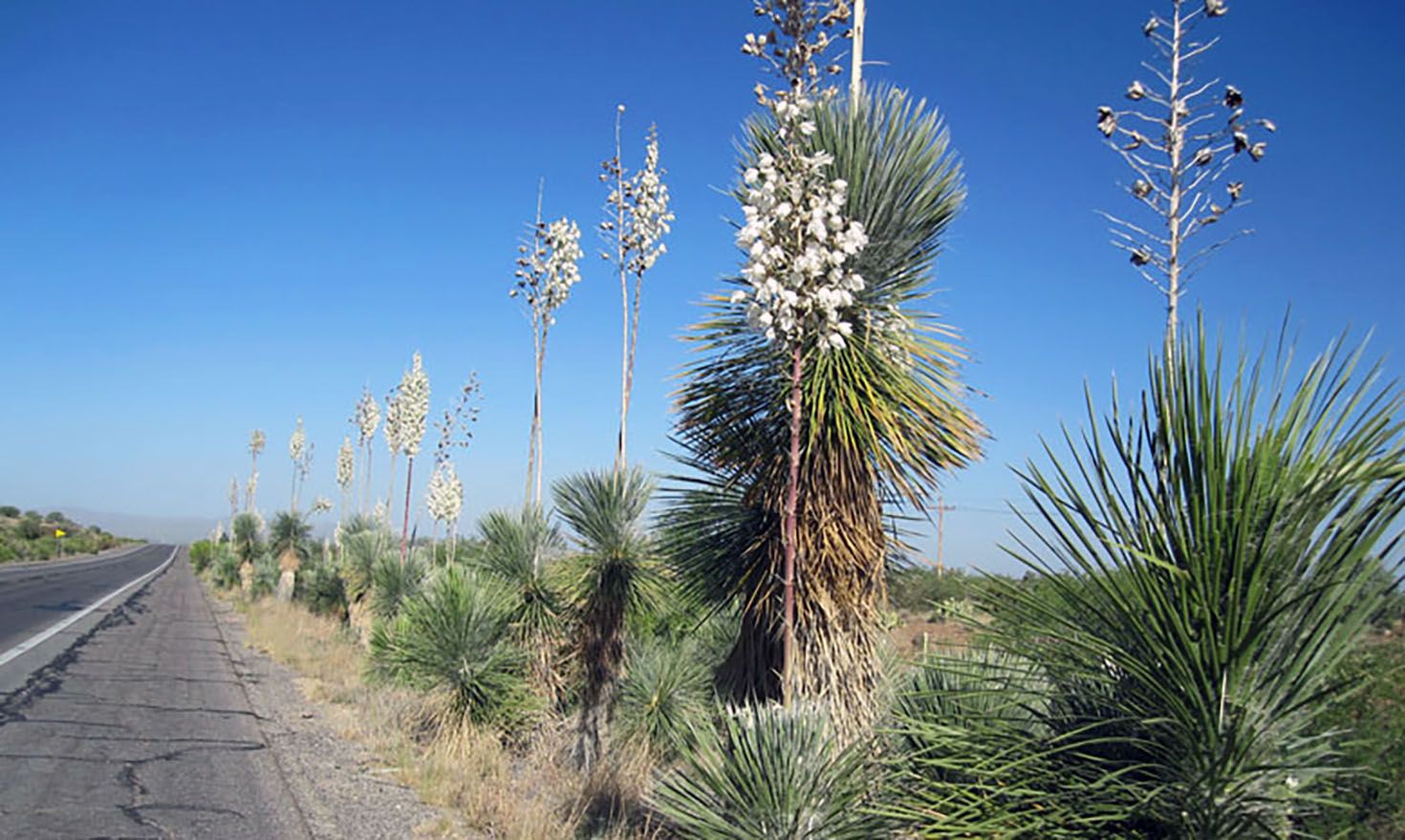 Barn Jazz Vol. 2
"It was late one night, it was quite a sight!  The flowers in the garden and the celery sticks were having a fight."
So starts "The Night of the Dancing Vegetables", which has turned out to be one of my most popular songs. The story continues when Hiram, the farmer is awakened by his wife, who hears "noises out in the barn". Hiram, grumpily trudging to the door, opens it, and cries out "What the F#*(&!" and so begins the rest of the story. This song is included on the Best of Barn Jazz - 20 Years compilation CD.   Much of it was written while I commuted from Oracle to my day job as an IT consultant for the Pima County Superior Court in the late 2000's. I would think up some crazy lyrics, stop the car, and write them down, or dictate them into my Zoom recorder. Evan Dain, an amazing bass and horn player, contributed the trombone part, as well as sang backup vocals along with Lyndi. 
"The Animal Farm" is my parable of a man trying to go home to his rural roots, but finding the farm in disarray. It is loosely based on the politics of 2008 and the Great Recession's foreclosure crisis, when congress started down its dark road of division and acrimony following the election of Barak Obama. This song has lots of visual details as well a catchy country, rural feel to it.
"Dream of the Dragonfly" was my first recording using a 10 string electric mandocello obtained from the creative luthier, David Enke of La Veta, Colorado, following one of our reconnaissance trips to that state prior to moving to Grand Junction.  I had my first ever CD release party for Barn Jazz Vol. 1 in 2003 at Oracle State Park's Kannally Ranch house.
Our impromptu band, which included the great Tucson singer-songwriter, John Coinman on guitar, was starting to play when a dragonfly appeared above and in front of us.  It hovered and danced around for a while, a "tiny wonder in the light".  In the song, which was inspired by this memory, the dragonfly predicts that I will be taken (flown..."to the mountains far away"), which turned out to be the western slope of Colorado. If I were to find the dragonfly dead on the snowy ground, I was to cover it with "sands of clay". Interesting that the soil around our home in Grand Junction was bentonite clay. I am not entirely sure of the meaning of this song, but it does reflect my sadness at leaving Arizona and my good friends in Oracle and Tucson. I performed this song in public only once, during a concert at the Oracle Union Church.
Barn Jazz Vol. 3
Tunes from this final CD in the Barn Jazz series, "High Fiddility" were recorded after 2012 in my Grand Junction, Colorado, home studio. While there are some original bluegrass tunes, this period marks the beginning of more ambient and meditative instrumentals ("Crossing the High Country"), something I had not done since composing "Contours" for Vol. 1. 
This trend continues with a new "Rivers" series.  The style is more orchestral with elements of ambient electronica, mixed as always with some acoustic elements, Gibson acoustic guitar, violin, viola, mandolin, etc. The first album is "Rivers of the Sky", followed by "Rivers of the Land". The final work in this triptych is "Rivers of the Sea" which is still in production as of this writing.
This is the story so far. I am not sure if there will be a Barn Jazz Vol. 4, but who knows?  I am just getting started!
-dj  4/13/2022