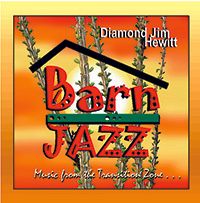 Well it really has been that long since my first concert at Oracle State Park in 2003 where my first CD, Barn Jazz, was released at a great party of Oracle and Tucson Friends. John Coinman joined me on stage and we had a great time.  I began recording what would become the opening track for Barn Jazz around 2002, which was Garden Dreams. I was inspired by majestic home gardens of Brent Warburton, potter extraordinaire, Vivian Mayer, and Quentin Branch. This spun off a fantasy where the insects had a hoedown after the farmer went to bed (The Barnagle), and later, "the music in the barn, it started to play. The corn stalks in the back of the yard, they started to sway".... The Night of the Dancing Vegetables.  I think there is something about the clear, high desert air of the Transition Zone in Oracle, located on the other side of Frog Mountain (The Catalinas) from Tucson, the lends itself to fantasy and whimsey. 
Since that initial release there have been two more  in the Barn Jazz series, Barn Jazz Vol. 2 The Night of the Dancing Vegetables in 2012, and Barn Jazz Vol. 3, High Fiddility,  the later released in Colorado in 2016 after a move f rom Arizona to Grand Junction. The tracks for this compilation were chosen as the best of the series, but there are many others that I would have included, but its hard to fit on a single medium, so stay tuned for more.  
My home studio has grown considerable since 2003. These tunes and songs were recorded with the best equipment and techniques that I had available at the time, and have been, to various extents, remixed and mastered for this compilation release. I hope you enjoy these songs, and as I quote on the CD jacket from one of my favorite poets, William Butler Yeats, "But I, being poor, have only my dreams; I have spread my dreams under your feet; Tread softly because you tread on my dreams."  And turn up the volume! Enjoy  - DJ.